FREE ADMISSION!!!
THE PA SPRING MUSIC EXPLOSION 2013
Saturday May 4th, 10am - 6pm
Sunday May 5th, 10am - 4pm

FREE ADMISSION!!!
(8am Pre-Show Admission: $20 for 1 or 2 days
Print this out for 1/2 price early admission)
100 Station Ave
(PA Turnpike to Route 202S to Route 422W)

HALL D


Oaks, PA
(Septa #99, Call: 215-580-7800 for info/schedule)

[GPS: 1601 Egypt Rd, Phoenixville, PA 19460 then follow the signs for the EXPO CENTER]
Vendors From Across The U.S.A.!
Bargains!
100 Tables!!!
RECORDS * CDS * 45'S * 12" * DVDS * POSTERS * BOOKS
MAGAZINES * T-SHIRTS * MEMORABILIA and MORE!!!
*
*
GUESTS:
Richie Ranno - Lead Guitar
STARZ

Joe Dube - Drummer
STARZ
Richie & Joe will be appearing Saturday
Signing autographs
and Meeting Fans!
STARZ will be performing at the Sellersville Theater Friday June 7th
VINCE MARTELL
Vanilla Fudge Lead Guitarist

Vinny Martell, is a US Navy Veteran and a Long Island Music Hall-of-Famer. He created the Vanilla Fudge's psychedelic guitar sound in their 1967 Billboard chart-topper, "You Keep Me Hangin' On." It is ranked the number four heaviest riff of all time in classic rock by Guitar Magazine...Vanilla Fudge toured with Jimi Hendrix; Cream, Janis Joplin, Jefferson Airplane, The Doors, The Stones, The Who, to name a few, all shared the stage with them. Led Zeppelin opened for them when they came to the U.S... Ray Manzarek of The Doors wrote of Vinny Martell: "A more soulful shredder may not exist in all of classic rock..." Check Vinny out on PBS: "My Music of the Sixties" and "Love-In: A Musical Celebration with Ben Vereen"... Read about Vinny in Premier Guitar Magazine, August 2010 issue: "11 Unsung Heroes of the Sixties..."

Vinny will be signing autographs, selling his CD's and meeting fans on Saturday from Noon to 5PM.

Vanilla Fudge will be performing at the Sellersville Theater, Sunday June 9th
JIM STEELE
Consignment Director - Entertainment & Music
Comics & Comic Art
Heritage Auctions, Dallas, Texas

GARRY SHRUM
Consignment Director - Entertainment & Music
Vintage Guitars
Heritage Auctions, Dallas, Texas
Garry & Jim will be available to appraise your Records & Music Collectibles (they request $5 donation for each item, to be contributed to the American Red Cross).
They will also be looking for consignments for Heritage Auctions' next Entertainment & Music Memorabilia Signature Auction - July 25th, 2013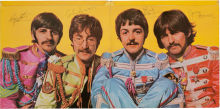 *
FREE ADMISSION
TOO SOFT, LLC IS NOW THE EXCLUSIVE DISTRIBUTOR
of the 30th Anniversary John Lennon Limited Edition Tribute CD. Only 1000 were pressed.
1. Power To The People - Rich Pagano
2. And Your Bird Can Sing - The Kennedys
3. God - Meshell Ndegeocello
4. Help! - Alejandro Escovedo
5. Mother - Shelby Lynne
6. Working Class Hero - Martin Sexton
7. Hey Bulldog - Joan Osborne
8. Watching The Wheels - Taj Mahal, Vusi Mahlasela
9. In My Life - Keb' Mo'
10. Come Together - Deva Mahal, Steph Brown, Taj Mahal
11. The Word - Bettye LaVette
12. Jealous Guy - Aimee Mann
13. You've Got To Hide Your Love Away - Jackson Browne
14. Oh Yoko - Patti Smith, Tony Shanahan
15. Instant Karma - Playing For Change Band


NEW PRICES FOR 2013

CD & Concert Poster Combo - $20
Concert Poster - $10 Each
11"x17" Portrait signed and numbered by acclaimed artist Hermann Mejia - $10 Each
CD, Poster & Portrait - $25

(Prices are valid only at our Record Shows)


Theatre Within's Annual John Lennon Tribute is a charity event which has raised money to feed the hungry, fund after-school programs for homeless children and build music schools in the Third World.

All purchases are tax deductible.

Available at any of our record shows or email for more info.
Email Us HOME

www.showsandexpos.com
973-209-6067

This page last updated: April 29th, 2013